LSC
LYDER DOORS SCANDINAVIA
The door is designed for interior and exterior use in the building (if the climatic conditions do not require particularly good thermal insulation). This LSC doors is fire-resistant, smoke-proof and perfect for newly-built apartments.
Characterised by safety (RC3), sound-proof (42 dB) and fire-resistance (EI130),smoke-control (Sa, S200) qualities. The RC3 safety feature can be omitted to ensure the best price for large-scale projects. However, with regards to the changes in the Swedish construction market, we developed options with higher sound insulation (45, 48 and 50 dB) and thermal insulation (1.0; 1.2 W/m2.K) qualities.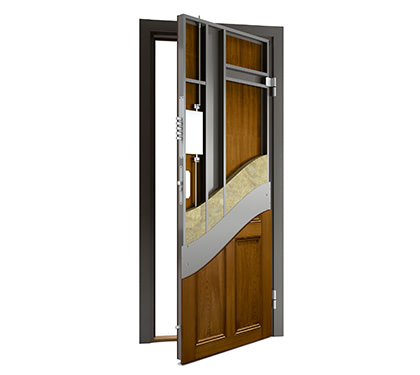 Main properties
Rw 45 / 48 / 50 dB
Sound insulation
1.5 / 1.7 W/(m2·K)
Thermal transmittance
About product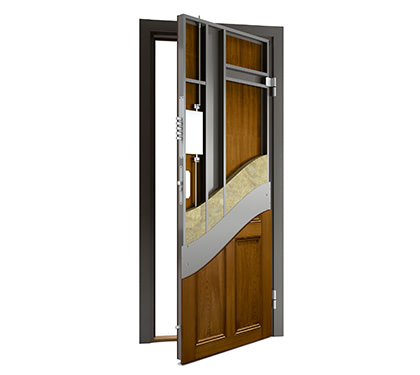 Steel Construction
The steel construction of the door is made of bent profile protective sheet, using 1.5 mm steel. The construction is welded using semi-automatic MIG technology. Powder coated. The number of the hinges depends on the door measurements. 5 protective hinge pins to prevent the door from being lifted out. Lock and handle options – ASSA or Mottura safe lock, or another security class lock with vertical pins. Threshold options – steel, coated, stainless steel or oak. The inside of the door and door frame is filled with mineral wool. The door can feature various options of décor and design, including authentic panels. What makes this type of door special is that it can feature a very wide range of threshold and door frame forms and sizes.
Door frame and door leaf perimeters are made of rectangular open-bent profile, with a thickness of 1.50mm (Steel DC – 01 "ArcelorMittal ", Belgium). For the rigidity of the door leaf the partitions are made of rectangular folded open profile and with a thickness of 0.8mm (Steel DC – 01 "ArcelorMittal ", Belgium). For the rigidity of the door leaf the partitions are interconnected with.
Mailbox and it's characteristics:
Options to choose doors with approved mailbox (including fire and sound resistance). www.swedbox.se