DSA
A wide range of door frame and threshold configurations enables to find the best solution for various situations in both new and renovated buildings. All products feature CE marking. Fire resistance options range from EI30 to EI60, resistance to breaking and entering – RC3. Sound insulation – 41 dB, heath transfer coefficient – 1.5 W(m2.K). Colour coating based on RAL and NCS palettes. Featuring various Scandinavian and European locks. We produce standard and custom-made double doors with glass, extensions width and height-wise.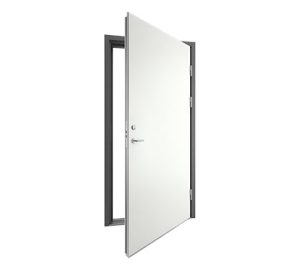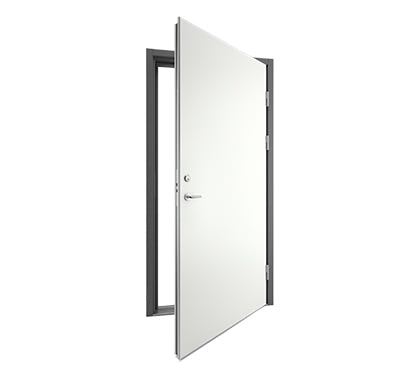 Main properties
EI230 / EI260
Fire resistance
1.5 W/(m2·K)
Thermal transmittance
About product
Steel Construction
The pane is made of galvanized 1 mm steel without welding seams, filled with dense, glued mineral wool. 3 adjustable hinges, steel or oak threshold. The door frame is made of galvanised 1.5 mm steel, featuring installation and adjustment bolts. To make it more stable during installation, the door frame is welded. Features an inserted (not glued) gasket and mineral wool filling.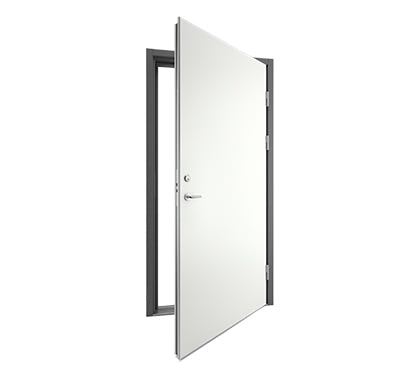 L profile oak treshhold, dimenssions: height 120 – 250 mm, width 110 mm, length 1010 mm. Steel treshold can be used in doors also.
Door is with adjustable steel architraves: corner arch. 50mm x 20mm, corner arch. 30mm x 20mm and flat arch. 50mm.
Door panels available in RAL and NCS colour palettes.
Additional information